BitcoinDark (BTCD) is a revolutionary crypto with a lot of features, launched last year. After the mining, now the currency on PoS phase and generating 5% extra annually, stakers getting divs every week which will increase in the future. I mined my coins, converted other alts in the PoW stage and staking them from then. I have been looking for an easy and secure way to stake 24/7 without noise and heat. Tried my Galaxy Tab Pro 12.2 for a short time, stopped using it when I started to get too many rejected blocks. Now, I'm staking fully 24/7 in my Raspberry Pi 2. If you want to do the same, just follow the steps in the next section.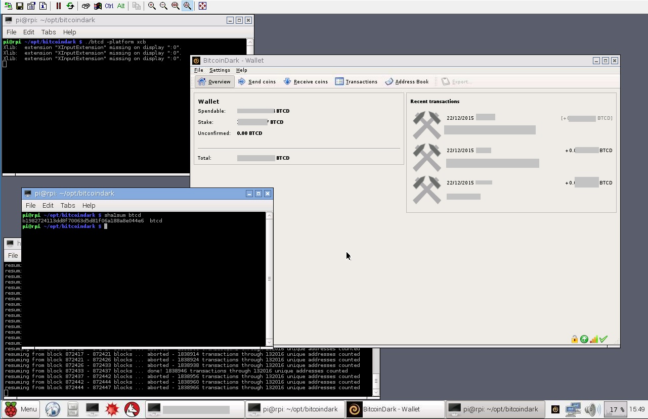 Requirements
I have compiled the BTCD GUI binary using https://github.com/laowais/bitcoindark code inside my Raspberry Pi 2, which took a long time. The compiled binary from official source which has not been tempered with, you can download below with SHA1 checksum.
Raspberry Pi 2
BitcoinDark (BTCD) Wallet for Raspberry Pi 2 (SHA1: b1982724113dd8f70063d5d81f06a188a8e044e6)
Running
Download the BTCD wallet for raspi 2 in your desired folder from above. Open a terminal window and cd into the folder where you downloaded the BTCD wallet.
Execute the wallet using the following command in terminal
./btcd
With the above code, if you see it goes full screen or not properly viewable, close the program and run with the following command.
./btcd -platform xcb
Now the wallet should run in a proper sized window, allowing you to perform all the tasks. It will take some time to sync the blockchain, unless you have a backup copy of the database to restore block and transaction database faster along with your wallet.
If you want to use your old wallet and blockchain db, close the wallet app, navigate to .BitcoinDark folder, delete everything in there and copy your old backup files in the folder and start the wallet. It may take a minute or two to start the app.
Please consider donating (BTCD: RQQ5k7jnkPivmjK6TAFGhiT9rrVV7astKy) if this post helped you. Don't forget to check my work, Explorebtcd.info – Official BitcoinDark block explorer which is serving 24/7 from an SSD VPS without failure and downtime for the past few months and BTCD Top 500 Rich List.