Portable chargers and battery packs ranging ~1,500 mAh to ~24,000 mAh have been in the market for a while now. They are getting better and faster as new technologies coming in. There is a new extra-large capacity 20,100 mAh portable battery pack which packed with Qualcomm Quick Charge 3.0 and USB Type-C made by RAVPower. This external charger provides fast charging while it is backward compatible with Quick Charge 2.0 and standard USB charging. This will charge QC3.0/QC2.0 compatible devices up to 80% within 35 minutes.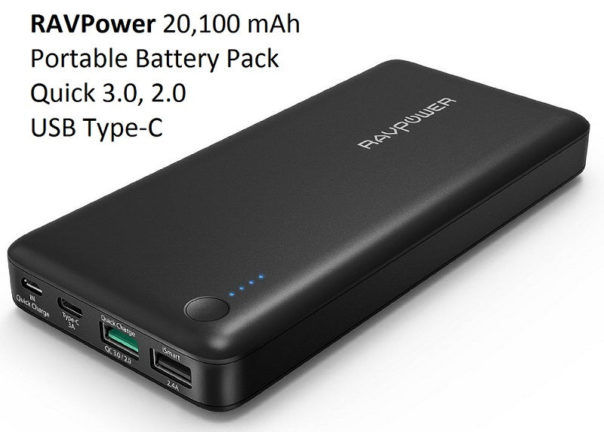 Detailed Specification
Input (Micro): 5V-12V 2A Max (QC) / 5V/2A (Non-QC)
Input (Type-C): 5V/3A Max
USB Output: 5V/ 2.4A Max
Type-C Output: 5V/3A Max
QC 3.0 Output: 5V/2.4A, 6.5V~9V/1.5A, 9V~12V/1.2A Max
Quick Charge 3.0 (QC 3.0)so means the battery pack will consume less energy, about 45% energy savings. USB Type-C, the newest type of USB standard which allows faster charge, data transfer and you don't need to worry about which end needs to insert and how. It is very easy, as both ends of a USB Type-C cable are the same and fully reversible.
Also with QC 3.0 certified charger you can charge this RAVPower 20,100 mAh portable battery pack very fast. About 5 hours it takes to charge the battery fully. There are 4 LED lights to show the battery bar and charging status.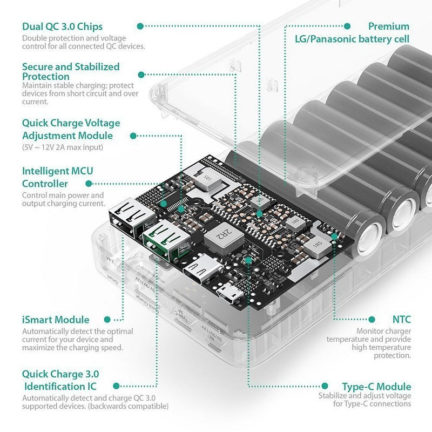 Compatible Devices
As QC 3.0 and USB Type-C is new, there are not so many devices released with these techs yet. But, there are more devices that uses QC 2.0. Here is a list of compatible devices (QC 3.0, QC 2.0 & USB Type-C combined list) that can charge fast using this portable charger, other devices will continue to charge normally.
Galaxy S7 Edge, S7, S6, S6 Edge, Note 5, Note 4, Note Edge
Motorola New X, New Droid
HTC One (M8), Butterfly 2, One (M9)
Sony Z5, Z3, Z3 Tablet, Z4, Z4 Tablet, Z3
Asus Transformer T100; Zenfone 2
Apple Mac book (A1534) 12 Inch
Google Nexus 6, Nexus 6P, Nexus 5X, Pixel C
One Plus Two
Elephone P9000
LGE G2 Flex, G4, G5
and more…
Of course it will charge older Micro USB devices, and other Apple products as well.
Quick Charge 3.0 Support
Quick Charge 2.0
USB Type-C
35 minutes for up to 80% charge
Charges 27% faster than other versions
Does not come with Wireless Charging which is another great invention in technology
Price
The RAVPower 20,100 mAh portable battery pack sold by Sunvalleytek-UK and fulfilled by Amazon. Amazon's prices are always changing, check the current price by clicking the buttons below.
Check Amazon UK Price
There is a slightly cheaper model available which supports Quick Charge 2.0 and USB Type-C. If you are not looking for QC 3.0 but fast charge, you should get this. Saves your money while giving you fast charging for your compatible devices.
Check Amazon UK Price