OnePlus 3 and OnePlus 3T (A3003) is one of the world's fastest charging phones with 6GB RAM. They come with great specs and with half the price than other flagship devices. From outside, there is no difference between them except the color. Both of the phones has 5.5″ Full HD Optic LED display. Front bottom part in the middle there is a fingerprint sensor and two soft-touch capacitive buttons on both side of it. I will explain step by step how to change the soft-touch buttons behaviour on these smartphones.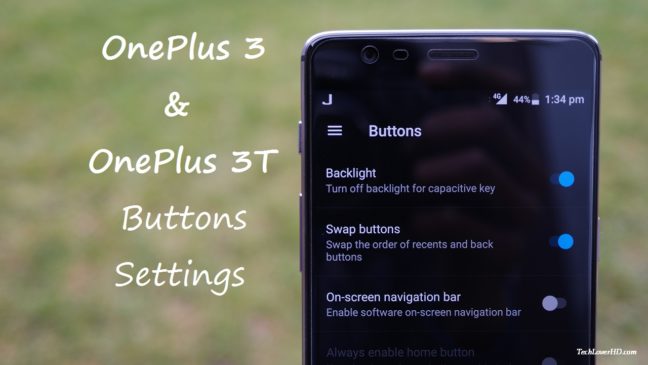 By default on OnePlus 3 & 3T, the left touch capacitive button works as Back button and the right button works as Recents. I'm right-handed and I prefer to have the back button on bottom-left side of a big screen phone. It is easier to reach with thumb while using the phone on one hand. And, the cool thing is, that you can change the button behaviour to suit your need.
Steps to swap buttons on OnePlus 3, 3T:
Go to Settings
Scroll down a bit and select Buttons under Custom section
Turn on the slider of Swap buttons
This will change or swap the button behaviour straight way for Back and Recents button on OnePlus 3 & OnePlus 3T.
OnePlus 3 & OnePlus 3T Button customizing
In this settings section of the phone's you can customise a lot of other button functionality as well.
You can turn off Backlight of both Back and Recents touch capacitive buttons.
On-screen navigation bar buttons instead of the physical buttons
Press power button twice for camera
You can also select "Long press action" and "Double tap action" for the Back, Home & Recents button. The available options are listed below:
No action
Open/close menu
Recents
Search assistant
Turn off screen
Open camera
Voice search
Open last used app
Open Shelf
Open/close notification center
You can choose any action to perform from the list above and associate them with long press or double tap in your phone's settings. This will save your time and make your life easy to use the phone.
Also, you can customise the Alert slider behaviour from the settings that suits your lifestyle or needs.
Was this tutorial helpful? Please let us know in the comments below.